Instagram is an incredibly powerful social media tool. 13% of internet users are on Instagram, 200 million people use it every month, and 7.3 million users are on the Facebook owned platform at least once per month. The bottom line is, Instagram marketing can be a serious influence in any advertising campaign.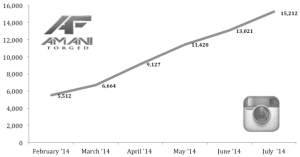 Back in February, Advluence set out to create some social media influence for our client, Amani Forged, a Forged wheel manufacturer. The strategy was simple: use aesthetically pleasing, vibrant, and engaging photos and videos taken by our very own photographers and videographers in order to stimulate following and engagement from the Instagram car community. The execution thus far has been flawless. Amani Forged has seen some remarkable results, their Instagram following has spiked from a little over 5,000 followers to just over 15,000, about 175%, in just five months. Coinciding with that, the Amani Forged has seen a concurrent spike from 182 average likes per photo, to an average of 331 likes per photo, totaling an overall improvement of approximately 82%. This increase of captivated following can help any brand create brand awareness, connect with their community, and most importantly…generate sales!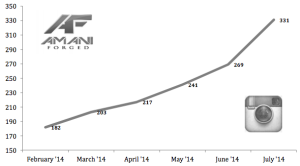 As we push forward with Amani Forged, we'd encourage you to give them a follow, check out the work we do! We love Instagram marketing because it is an incredible way to create influence, especially with compelling photography and video clips to help promote engagement. If these results continue, Amani Forged can expect to be one of the top car and wheel accounts on Instagram by year's end. Now that's influence. Advluence.